INTRODUCTION TO FOAM SWORD FIGHTING
Looking for something a little different?
Looking for something inexpensive?
Want something fun to do on weekends or weeknights?
Tired of 'sword fighting' with sticks, but can't afford fencing lessons?

Then you have come to the right spot. Read on my friend.


What is foam sword fighting?
It is a fun, safe, inexpensive, live action, full contact game where padded swords (and other padded weapons) are used!
Foam sword fighting has been around for at least 21 years and it has been developed and refined and perfected over those years.
The rules are fairly simple, but the action is fast and furrious.
The rules are developed with the following criteria:
Safty First
Playability Second
Realism last

With foam sword fighting, no expensive armor is needed and sword fights can be imprmptu. Most 'swords' are made with PVC and then padded in a very specific way with foam, for a safe way to make full contact with the 'weapon.'

Is it like fencing?
No. Fencing is a sport where metal blades are used and protective clothing is worn. The two fighters fight on a strip of ground and can only move forward and back on the strip.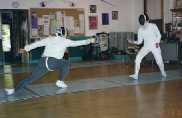 With foam sword fighting, no protective clothing is needed, and the style is more like how a knight might fight with a sword and shield. Foam sword fighting can also be a lot less expensive than fencing.
Personally I like both fencing and foam sword fighting because either way I am holding a sword and the action is intense. But each form is very different in style and atmosphere.

Where can I get swords or find some one to sword fight with?
The internet is full of sites that can direct you to a foam sword fighting organization or tell you how to make these weapons. Most of the organizations don't cost money to become a part of, and the average price to make a sword is about $10.00.
On my website there is a link at the bottom that directs you to a site that can show you how to make weapons. (There are links to my website below on this page.)

Is that it? or is their more to it than that?
Well, some people (and therefore organizations) like to pretend they are William Wallace, or Joan of Arc or even fictional characters like, Sir Lancelot, Robin Hood, Strider the Ranger, Gug the Orc, or even make up their own character. Sometimes it is fun to dress up like the character that you are pretending to be.
Some of the groups you will find around are based heavily on J.R.R. Tolkein's Middle-earth from The Lord of the Rings.
Others might be based in historical fact. Some groups allow both and more.